On the 12th of November 2021 the city authorities of Vilnius, the capital of Lithuania, forcefully removed a contemporary art performance focusing on the monument of Petras Cvirka, an influential writer in Soviet Lithuania.

The monument, which is located in a central square in the city centre, has been at the centre of controversy since 2017 and is scheduled to be removed in December 2021 as part of the Mayor's commitment to clear public spaces of Soviet heritage.

Local artists Egle Grebliauskaite and Agne Gintalaite were initially granted permission by city authorities to organise a performance with a title "Let's not forget not to remember" involving Cvirka's monument, during which the monument was to be covered with moss.

The artists explain that by using moss, which is used to treat wounds in traditional medicine, they hoped to create a form of engagement with the trauma of the Soviet past, leading to pacification and healing, inviting city residents to reflect on the flow of time and the remnants of history. However, as the bronze statue was being covered with a carpet of green moss, the city authorities changed their mind and prohibited the event. The city council stated that the initial permission was issued by mistake. No additional comment was provided why the project was deemed unsuitable. The artists were physically prevented from taking down the scaffolding and moss, which were removed by city subcontractors, and are threatened with a fine.

The statue of Petras Cvirka (1909-1947) was created by the acclaimed Lithuanian sculptor Juozas Mikėnas in 1959. It was under protection as cultural heritage until August 2021 when it was struck from the cultural heritage list and scheduled to be removed from the square. It is one of the last public monuments to Soviet cultural figures in Lithuania. Vilnius has been designated as Unesco city of literature in November 2021.

Dr Egle Rindzevičiūtė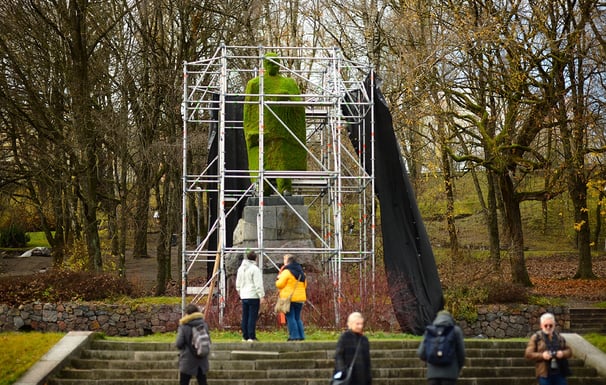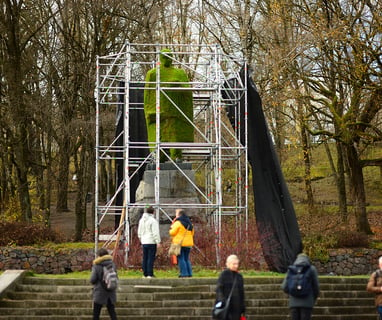 LETS NOT FORGET NOT TO REMEMBER